ZIM Dream Chip Technologies GmbH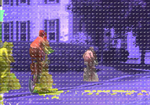 | | |
| --- | --- |
| Leaders: | Prof. Dr.-Ing. H. Blume |
| Team: | Gregor Schewior, Nicolai Behmann |
| Year: | 2015 |
| Date: | 01-09-15 |
| Sponsors: | Bundesministerium für Wirtschaft und Energie |
| Lifespan: | September 2015 - December 2016 |
| Is Finished: | yes |
In cooperation with Dream Chip Technologies GmbH, Garben, Germany, the Institute of Microelectronic Systems develops a camera system with integrated algorithms for high quality real time motion estimation in the area of driver assistance systems. The project is funded by the Federal Ministry of Economic Affairs and Energy in the innovation program for medium-sized enterprises.
Motion information from environmental objects and the car itself build the base information for further advanced driver assistance systems (ADAS). These systems increase the safety and comfort of the driver, while paving the way towards autonomous driving.
The Institute of Microelectronic Systems at the Leibniz Universität Hannover works in the field of algorithms and hardware architectures for digital signal processing applications with highest demands. In the ZIM project with Dream Chip Technologies GmbH, the focus will be on the implementation of real time hardware motion estimation and interpretation from continuous camera streams.