Site-optimized Wireless Communication Architectures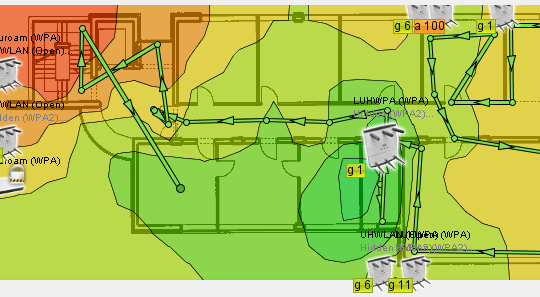 | | |
| --- | --- |
| Leaders: | Prof. Dr.-Ing. Holger Blume |
| Email: | 3621 |
| Team: | M.Sc. Daniel Pfefferkorn |
| Year: | 2014 |
| Is Finished: | yes |
Everyday life cannot be imagined without wireless communication. Over the years a lot of different standards have established themselves, each with its own task in mind. The most commonly known standard is IEEE 802.11 (WiFi). However, especially in the area of low-datarate, but low-power communication, a multitude of independent standards by different associations exists: Bluetooth, IEEE 802.15.4, ZigBee, NFC and RFID, to name but a few.
All standards pursue own concepts to maximize overall throughput and minimize latency and power consumption.
However the fundamental question is, which communication parameters (throughput, latency, energy consumption) can be expected in a specific application scenario. Especially indoors this becomes a non-trivial problem, because opposing requirements exist. On the one hand interconnection shall be established with a minimal number of devices due to reasons of cost reduction and aesthetics. On the other hand building-dependent wireless characteristics differ significantly.
To be able to make predictions and in turn optimize the system, it is necessary to include all system levels, from application level to physikal transmission, in the analysis.