PROPEDES - Predictive Pedestrian Protection at Night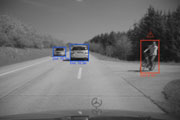 | | |
| --- | --- |
| Leaders: | Prof. Dr.-Ing. Holger Blume |
| Email: | 3621 |
| Team: | Dipl.-Ing. Gregor Schewior |
| Year: | 2011 |
| Date: | 01-08-08 |
| Sponsors: | Bundesministerium für Bildung und Forschung (BMBF) |
| Lifespan: | August 2008 - July 2011 |
| Is Finished: | yes |
Predictive

automotive

night vision system

for

pedestrian protection

,

based

on a composite

of imaging

sensors
They are the most vulnerable road users: pedestrians can be seen hardly in the dark or in poor visibility conditions and have no protection. A recently completed research project provides more safety for pedestrians by a novel driver assistance system - especially in the dark.

PROPEDES stands for Predictive Pedestrian Protection at Night and was sponsored by the Federal Ministry of Education and Research (BMBF) with a total of 5.5 million euros. Project partners were the Institute of Microelectronic Systems at the Leibniz University of Hannover, Daimler AG, ProDesign GmbH, Robert Bosch GmbH and the Steinbeis Innovation Center Embedded Design and Networking.

Almost every second person who dies due to an accident in the city at night is a pedestrian. Hence, PROPEDES relies on modern pedestrian detection methods. Therefore a driver assistance system will be installed at the height of the rear view mirror. By means of digital signal processing, the information from different sensor technologies, such as infrared video systems and mechanically scanning radars, are combined.

The system evaluates around 30 frames per second and can thus react faster than a human. What the human eye often perceives only as a small gray spot in the dark, the driver assistance system recognizes in a fraction of a second as pedestrians at the roadside. If the car keeps driving towards the pedestrian a braking operation is initiated automatically.

However, the device does not detect pedestrians only but also evaluates images of lanes, road signs and other vehicles. The system measures both the distances in a range up to about 120 meters and the speed at which an object moves. The usage of two cameras allows for the perception of three-dimensional images.

The research team led by Prof. Dr.-Ing. Holger Blume at the Institute of Microelectronic Systems has developed the hardware for the signal processing. Devices like this may be mandatory soon. Around the year 2015, a EU norm is expected that regulates by law an integrated pedestrian protection in vehicles.